Which Meraki Firewall Models Are Best for Small to Medium Businesses?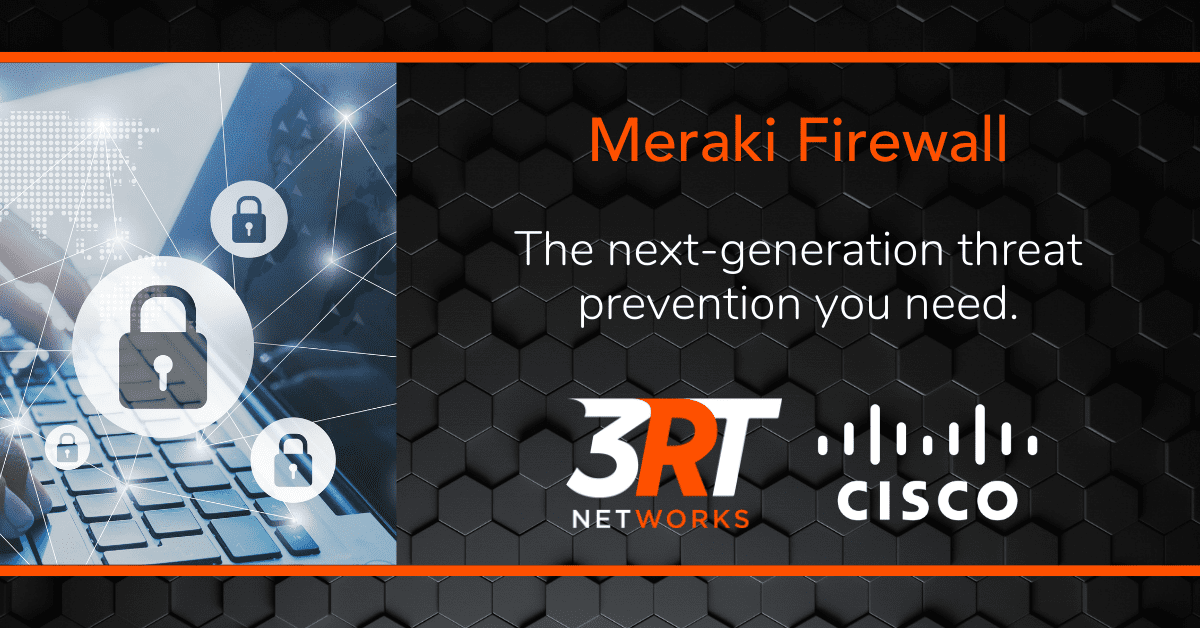 For modern small to medium businesses, network security means accounting for office networks, teleworkers, and cloud workloads. This dynamic is a major shift from the old "castle and moat" approach to network security and firewalls. Cisco Meraki's firewall models are often an ideal choice for securing SMB networks because they're designed with modern networks in mind.
Why are Meraki firewall models so popular, and what are the best models for small and medium-sized businesses? Let's take a look.
Why Meraki firewall models are ideal for small to medium businesses
Meraki provides enterprise-level network and security features in an easy-to-use cloud platform. 
Today, work gets done in home offices, corporate offices and the cloud. That flexibility has major upsides for both businesses and employees. However, it also means SMB networks have more entry-points and attack surfaces than ever before.
Using VPNs, IDS/IPS, and NGFW appliances are common approaches to help improve network security and protect against these threats. However, for SMBs, the cost and complexity of integrating and managing enterprise-grade security solutions can be prohibitive.
Fortunately, the Meraki platform solves this problem quite nicely. SMBs can deploy Meraki appliances on-premises and manage their routing, WiFi and security from an intuitive cloud-based interface and still achieve robust network and security functionality.
For example, in addition to WiFi and wired network management, the Meraki platform offers:
Built-in NextGen Firewall (NGFW)
Layer 7 content filtering
Auto-VPN configuration
Intrusion prevention
Configuration of device-specific (e.g. iPads) and identity-aware security policies
Cisco Advanced Malware Protection
Integrated support for Google SafeSearch and YouTube for Schools
Zero-touch automatic provisioning
Simply put: with Meraki, you get the functionality and security without complex CLIs or patchwork of appliances from different vendors to manage.
The best Meraki firewall models for SMBs
Meraki MX firewall models are ideal for many SMB applications. Let's take a look at some specific use-cases.
Meraki's MX line of appliances provides the right mix of simplicity, functionality and security, which makes them a good choice for many applications. Here, we'll look at the best Meraki MX firewall models for specific applications.
As we go, keep in mind that all the appliances support the features we mentioned above. The key differences when comparing these Meraki firewall models are throughput and WiFi.
💡Pro-tip: A "W" suffix on a Meraki firewall model means it includes WiFi support!
Best Meraki firewall model for up to 25 clients: MX64/MX64W. With 250 Mbps of stateful firewall throughput and VPN throughput of 100 Mbps, the MX64 and MX64W are an ideal choice for small offices.
Best Meraki firewall model for up to 50 clients: MX68/MX68W. The MX68 models bump stateful firewall throughput up to 400 Mbps and VPN throughput to 200 Mbps. Additionally, MX68/MX68W models include 10 LAN ports and 2 that support PoE.
Best Meraki firewall model for all-in-one wireless: Meraki MX68CW. The MX68CW offers the same throughput as the MX68/MX68W and adds LTE support to the mix, making it an ideal all-in-one solution.
How to protect remote workers with Meraki Z3 appliances
Meraki Z3 appliances help secure teleworkers' home networks. 
The Meraki firewall models are a great fit for offices and they go a long way in enabling network security. However, remote work is the new normal, and small to medium businesses need to ensure their teleworkers' home networks are secure.
Even if security on-premises and in the cloud is impeccable, a single compromised teleworker PC can lead to a breach. Deploying Meraki Z3 appliances at employees' home offices helps solve this problem. Z3 appliances are simple, easy to deploy and support Auto-VPN for secure connectivity to corporate network resources.
How 3RT helps SMBs simplify Meraki firewall deployment and management
We specialize in networking and security so you can focus on your core business operations.
Meraki solutions help streamline the process of securing modern SMB networks. They provide many enterprise-grade network and security features in an easy-to-manage cloud interface. However, it still takes expertise and effort to integrate, manage, and maintain Meraki appliances. That's where we come in.
3RT Networks is a Premier Certified Cisco Partner that specializes in helping businesses implement, configure and manage Meraki technology. We can help you choose the right firewall for your environment and integrate it seamlessly into your network. We can even partner with you to help with ongoing monitoring and reporting. Contact us now for more information.
For a limited time, we're offering a free Meraki Z3 firewall when you buy a Meraki MX appliance! Claim your offer now.